Farewell to Mark
After more than eight years on staff here at KLWM, our colleague and friend Mark Congero is leaving us, and moving his family to Hawaii. Mark built a name for himself here as our resident food expert. In the retail shop, on a daily basis he drew upon his years of professional work in the front and back of fine restaurants. When a customer would stump one of us with a request for a good wine pairing for an upcoming dinner, Mark was always quick to find a logical and innovative option. For the staff, he was the go-to for advice on our own cooking questions and through his samplers and the recipes that accompanied them he became a resource to all our customers. He fielded dozens of phone calls each month specifically about his recipes from inquisitive customers who had purchased one of his samplers. During his tenure, Mark wrote 19 of his "Seasonal" samplers that included in total around 100 recipes. He was also an occasional contributor to the blog—here are the posts the he wrote for us.
http://kermitlynch.com/blog/2012/03/16/crock-pot-fridays/
http://kermitlynch.com/blog/2010/03/10/a-corky-bastille-day/
http://kermitlynch.com/blog/2009/12/10/winter-produce/
http://kermitlynch.com/blog/2009/08/18/spaghetti-with-basil-pesto-heirloom-tomatoes/
Below you'll find Mark's final sampler, which is featured in this month's newsletter. Included in the carton you'll find 8 pages of Mark's favorite recipes from past samplers. Grab a sampler soon as you only have two weeks left to call him up to seek his wine and food expertise!
by Mark Congero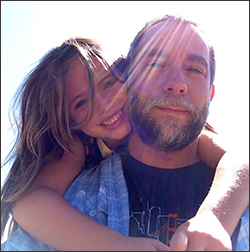 Folks, it has been a great run here at KLWM, but after eight years, I am moving on. I am, along with my wife and daughter, headed to Maui. Island life awaits: warm sun, tropical breezes, and delicious wine . . . well, two outta three ain't bad! I have had a lot of fun writing my seasonal samplers, and I hope that you all have enjoyed them as well. It has been my pleasure, truly, to taste and then write about so many great wines, and a joy to find recipes to pair with them. Whether the theme was a Provençal summer or an Italian winter or preaching about the virtues of local, sustainable, organic food, my goal was to make you hungry and thirsty and, if you tried the recipes, satisfied!
My time here means a lot to me. I will remember it fondly and I will miss all my colleagues and the great client relationships, but most of all I am going to miss the wine! But who knows—there may be some adventures on the KLWM wine route still to come.
Please enjoy my Farewell Sampler. In the carton you'll find some of the best recipes from past samplers, and (as always) you'll find a mouthwatering selection of wines, including a few of my all-time favorites.
Bon appétit and aloha!
per bottle

Clairette de Die Brut • Domaine Achard-Vincent

$25.00

2013 Muscadet • Michel Brégeon

17.95

2013 Edelzwicker • Meyer-Fonné

18.00

2013 Petit Chablis • Roland Lavantureux

22.00

2013 Pigato "Vigneto Ca da Rena" • Punta Crena

27.00

2013 Bourgueil "Alouettes" • Chanteleuserie

16.00

2012 Languedoc Rouge • Château de Lascaux

17.00

2013 Dolcetto d'Alba "La Costa" • Piero Benevelli

17.00

2013 Vaucluse Rouge "Le Pigeoulet en Provence"

Frédéric et Daniel Brunier

18.00

2011 Lussac St. Emilion "Les Griottes" • Bellevue

19.95

2012 Marsannay Rouge "Les Longeroies" • Régis Bouvier

34.00

2009 Bandol Rouge • Domaine de Terrebrune

36.00
Normally $267.90
Special Sampler Price
$199 (a 25% discount)