Where Beaujolais Meets Carignan
by Sarah Hernan
If I said "whole cluster fermentation," what would be your first thought?
Fruit? Freshness? Beaujolais? Bravo! But this post is not about Beaujolais. Let me give you another clue. Old vine Carignan, Grenache, Macabou, and Terret.
Southern Rhône? Closer—Languedoc-Roussillon!
Featured at one of our recent weekly staff tastings were the new arrivals from Corbières producer Maxime Magnon. His three wines were without any hesitation, the staff's picks of the night.
Maxime is a young producer, established in the Languedoc, between Perpignan and Narbonne. He belongs to a new generation of Languedoc vignerons who are trying to protect their terroirs and older vineyards from being overlooked.
Maxime sells his handcrafted wines from the Corbières and the Vin de Pays de la Vallée du Paradis appellations.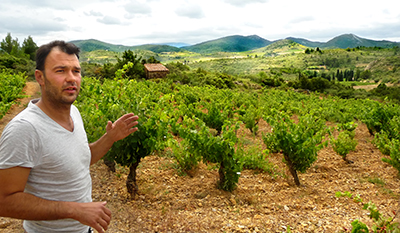 The almost completely unknown vineyards from the Vin de Pays de la Vallée du Paradis are situated on the border between Languedoc and Roussillon. It is a stunning valley close to the sea, comprised of schist, basalt, and sandstone. After one sip of his cuvée "La Démarrante," a blend of Carignan and Cinsault, the tone is set for something gourmand, fresh, deliciously fruity, with a hint of wildness.
If you are used to the common Corbières style, over-ripe and over-rugged, you are going to be stunned by Maxime's Corbières. The Corbières "Rozeta," a blend of Carignan, Grenache Gris, Macabou, and Terret, all harvested and fermented together, is a wave of delicate minerality, bright acidity, and beautiful tannins.
His third red, the Corbières "Campagnès," comes from a single vineyard of hundred-year-old Carignan. The most cellar-worthy of his bottlings, it has exquisite notes of cherry and blackberry fruit with incredible finesse for the south.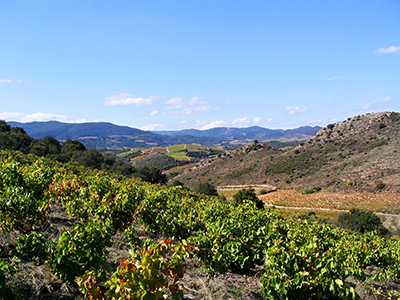 Now you might be thinking, what was that story about the whole cluster fermentation?
Maxime's mentor is Jean Foillard, one of the classiest vignerons anywhere. Maxime was inspired to import Foillard's methods to the south of France with spectacular results.
Old vines, great terroir, an inspiring mentor, and an intense focus on perfection have been Maxime's secret to success so far. The results are dazzling—deep, fruit-driven wines with the perfect balance of tannins and a natural acidity. One single sip of Maxime's wines will wake up your taste buds, please your palate, and bring a smile on our grumpiest day.
The only cloud on the horizon is the tiny amount of quantity available. This is your chance to taste Maxime's little paradise before it vanishes in someone else glass.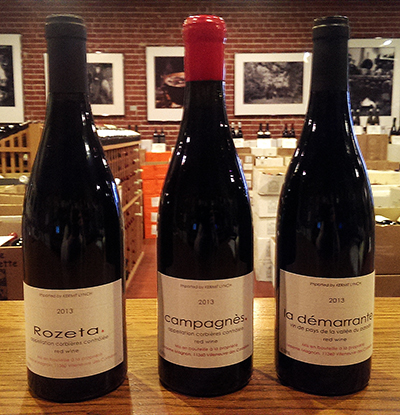 Please email [email protected] or call 510-524-1524 to inquire for availability of wines.