Tribute to Madame Lacaussade
by Dustin Soiseth
It was our colleague Mark Congero's last day at the retail shop—he decamped to Maui, so don't feel bad—and after work we toasted with a gift from one of his clients, a bottle of 1983 Chateau de l'Hospital. This wonderful red, a blend of Cabernet Franc, Malbec, and Cabernet Sauvignon, offered a glimpse of an older style of Graves. Not many Bordelais are growing Malbec anymore.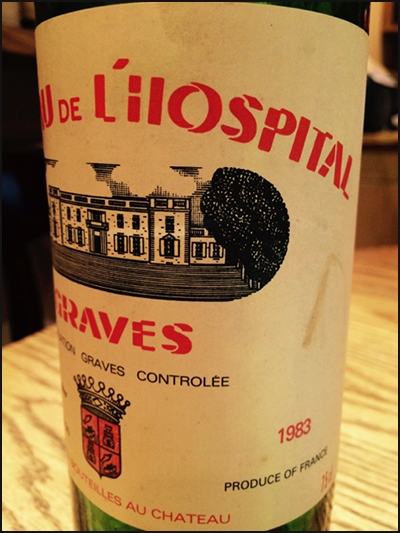 In Adventures on the Wine Route Kermit writes of L'Hospital proprietor Madame de Lacaussade's indomitable spirit in the face of misogynist negociants and ambivalent children; her unwavering adherence to traditional vinification and varietals; her splendid relic of a chateau and its antique toilet. "I believe that wine can reflect the personality of the man or in this case the woman who makes it," he writes. "Madame de Lacaussade has a flamboyant personality and her wine is far from bland. Then I realize that as true as my theory might be it is absurd-sounding. Can fermented grape juice express the personality of a man or woman?"
I never met Madame so I will never know for sure, but in reading about her and tasting this wine I feel that I do, a bit. Perhaps that's foolish. As for the wine itself, it was marvelous. Fully mature but still vibrant, a lion in winter expressing all the leafy, leathery, earthy aromas characteristic of a fine aged claret.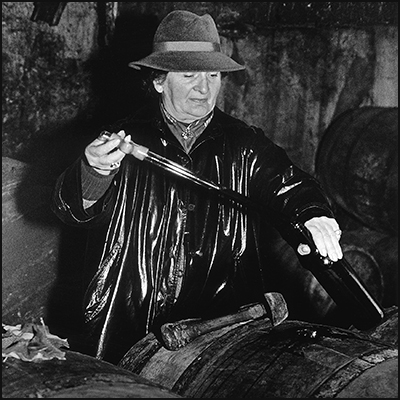 Madame Lacaussade    © Gail Skoff
It was a singular experience, and one of the more memorable of my career. And while I am unlikely to taste Madame de Lacaussade's L'Hospital again, I am thankful for the dedicated cadre of producers – Gombaude-Guillot, Moulin Pey-Labrie, Belles-Graves, among others – that Kermit continues to import. They continue the tradition she embodied, and when I taste their wines I am reminded why I fell in love with Bordeaux in the first place. Cheers to them, to Mark, and to you, Madame.