Antoine Arena, New Arrivals
by Anthony Lynch
Corsican winemaking has come a long way in recent years, and it would be foolish to deny Antoine Arena's role in its transformation. Having taken over the family domaine as much out of national pride as out of passion for the land, Antoine pioneered a new school of viticulture on the island—one that focused on terroir and rejected the industrial, chemical approach that had become the norm by the 1980s. His pioneering attitude led him to create a number of striking single-vineyard wines from indigenous grape varieties, setting the bar for quality and kicking off a resurgence of artisanal production by contemporary Corsican vignerons, now in full swing.
The offerings below are 100% Niellucciu from Patrimonio's clay and limestone, grown organically and bottled unfined, unfiltered, and with minimal added sulfur. The wines are young and greatly benefit from aeration—we suggest decanting them for at least a couple of hours to better appreciate these most natural, transparent expressions of Patrimonio's terroir.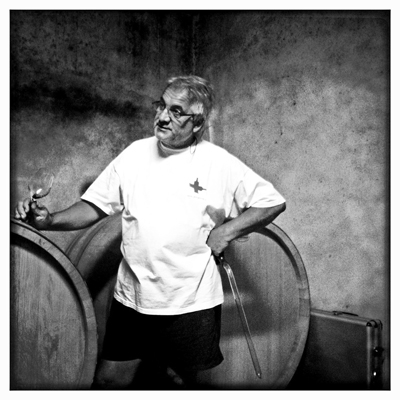 Antoine Arena           © Gail Skoff
2012 PATRIMONIO ROUGE "MORTA MAIO" >
"The eldest myrtle," a young-vine bottling from a plot of land the Arena family has worked for more than four hundred years, refers to the wild bush that makes up a large part of Patrimonio's wild scrubland, or maquis. A somber, earthy aroma opens up to rustic red berry fruit and suggestions of the very same maquis. Medium-bodied with hints of spice and game, it demands thick slices of country charcuterie.
$45.00 per bottle $486.00 per case
2012 PATRIMONIO ROUGE "CARCO" >
Carco is Arena's flagship parcel, a well-exposed slope two miles from the sea that Antoine had to manually clear of massive white limestone boulders. These stones have left their mark: it tastes as though a dusting of pulverized rock coats the chewy black fruit. Slightly austere and deeply mineral, it has a freshness and tannic backbone that will allow for a thrilling evolution over the years.
$45.00 per bottle $486.00 per case