September Newsletter: Premier Cru Burgundies, Rhône Wines, Northern Italy
The September Newsletter is now available.
Click here to download the pdf.
Highlights from this month's newsletter…
PREMIER CRU BURGUNDIES
by Anthony Lynch
2013 SANTENAY ROUGE 1ER CRU "LE BEAUREPAIRE"
JEAN-MARC VINCENT >

Jean-Marc and Anne-Marie Vincent represent a breed of vigneron that is harder and harder to come by. The elegance and seductiveness of this Pinot Noir is a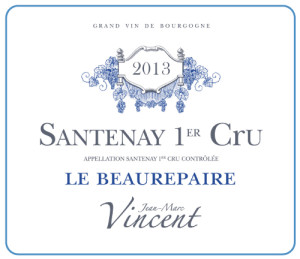 testament to the potential of the undervalued Santenay appellation in the hands of dedicated artisans. Full-cluster fermentation—a lost art in Burgundy—contributes appetizing bright fruit before deeper notes of dark forest berries and a sturdy finale remind us of Santenay's goût de terroir. You'll want to enjoy this rare beauty now and over the next decade.
$57.00 per bottle $615.60 per case
2012 ALOXE-CORTON 1ER CRU "CLOS DU CHAPITRE"
DOMAINE FOLLIN-ARBELET >
Franck Follin-Arbelet bottles a pure, unadulterated expression of Aloxe-Corton's terroir. His reds ferment naturally in old wooden vats, and are then racked by gravity into barrel for a long and patient élevage in the domaine's deep, cool cellar. Brimming with perfumed sour cherry and red currant, Clos du Chapitre graces the palate with the utmost finesse. While still tightly wound, its sensuous texture and silky-fine tannins impart a graceful, ethereal harmony to the wine. You'll see why we rank Follin-Arbelet alongside the top Burgundy domaines we've ever imported.
$76.00 per bottle $820.80 per case
RHÔNE WINES
by Kermit Lynch
2012 SAINT JOSEPH BLANC
DOMAINE FAURY >
I've been championing Saint Joseph reds and whites forever, and damn it, this bottle will show you why. It is white, a dry white, vinified in older barrels, malo completed—the old-fashioned way.
Some claim Hermitage and Condrieu make greater whites. Greater for what? Value? No. Immediate gratification? No. Snobbery? Yes. So I say: Don't be a snob, vote Saint Joseph! Actually, I'd say that a lot depends on the winemaking.
Faury's 2012 offers obvious deliciousness—no beating around the bush. The nose is a complexity of lovely fruits and flowers. It offers a rare charm to the senses, and I have a weakness for charm.
$32.00 per bottle $345.60 per case
2013 CÔTE RÔTIE "LA VIAILLÈRE"
BARRUOL / LYNCH >
One of the things that brought Louis Barruol and me together was our love for the Côte Rôties of Marius Gentaz. Now that I think of it, not many readers will have tasted a Gentaz—vintage 1993 was his last, and there really wasn't ever much to go around back then anyway. Here is our latest homage to the humble master.
$75.00 per bottle $810.00 per case
NORTHERN ITALY
by Katie Dodds
2014 VALLE D'AOSTA BIANCO "PETITE ARVINE"
CHÂTEAU FEUILLET >
When: 5:30 p.m. on a Friday. Hottest summer on the books since '03.
Where: Ground floor of a well-insulated and poorly ventilated townhouse, Beaune, Côte d'Or, Burgundy.
Problem: Fan not working, brain boiling, bad attitude. Flies.
Solution: This sweating bottle of high-altitude Petite Arvine. Simple yet refined, it harks to its lofty upbringing in the Italo-Swiss Alps, where the grapes grow on striated parcels of stark granite cliffs at 2,600 feet.
My glass opened to zingy minerality, fleshed out with summer melon and stone fruit. I could swear I felt an impossible breeze descend from Mont Blanc, and the fan began to whir . . .
$29.00 per bottle $313.20 per case
2013 BECCO ROSSO • CORTE GARDONI >
The Corvina grape has spent most of its history cast as a workhorse. In Valpolicella, it lays to dry on straw mats, where its hallmark bright acidity is sacrificed to ramp up the sweetness and power of Amarone. Across Lago di Garda, Corvina typically huddles in dense, industrial-style growing conditions and is mostly found blended with less expressive, easier-to-grow varietals. Fortunately for us, at Corte Gardoni they believe in pure Corvina, putting the best aside for their Becco Rosso. Vibrant and faultlessly refreshing, this variety is worthy of praise in its own right.
$18.95 per bottle $204.66 per case