Pasta with No-Cook "Umami" Sauce
Retail salesperson Jennifer Oakes is our guest blogger today and shares one of her favorite late-summer recipes.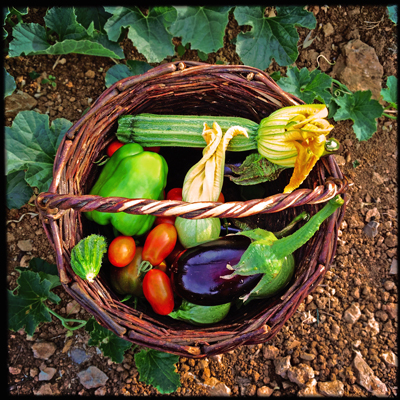 © Gail Skoff
Umami is the so-called "fifth taste" after sweet, salty, sour, and bitter, and you've probably been enjoying it all along. It was "discovered," or at the very least proposed as a distinct flavor category, by a Japanese scientist a century ago and it is what gives that elusive meaty, savory character to foods. It is found in the highest levels in hard cheeses, dried, cured, and fermented fish, soy sauce, tomatoes, and mushrooms, to name a few. Despite my years as a professional baker of cakes, cookies, and other desserts (or perhaps because of) I'm not much of a sweets person. I've always been more in love with the salty/sour spectrum. But when I discovered umami, I knew I was home.
Foods with umami are very welcoming to wine. Some wines, such as Vermentino from Corsica and Muscadet Sur Lie from the Loire, can even be slightly savory in themselves. But savory foods can be enhanced by wines that have the complementary flavors of sweet fruit and bright acidity and even a slight bitterness or earthiness. Consider the magic that is the classic pairing of Chianti with red sauce pasta. That meaty, umami-rich sauce is delicious balanced with the fruitiness, high acidity, and just a tinge of bitterness that Chianti brings to the party. Below I've shared another pasta recipe that captures this essence of umami and is easily paired with whatever tasty red, white, or rosé you might happen to have around.  

Pasta with No-Cook "Umami" Sauce
I know this looks like a long list of ingredients for one dish but your time is mostly spent chopping, not actually cooking. All it takes is the time to cook the pasta and you can get the rest of the ingredients together while the water boils. On that note, I have a time-saving trick for cooking the pasta you might want to try. I add the pasta to the pot with the cold salted water and bring it to the boil together. As long as you stir the pasta often at the beginning, it cooks so much faster than the usual way, the pasta doesn't get gummy at all, and the kitchen stays cooler. Anything to save time getting dinner on the table is a plus in my book.

You can also add anything that appeals to the "sauce" from your summer larder, especially anything that adds to the umami of the dish such as high quality tuna packed in oil or smoked mozzarella. Sometimes I can't remember all of the ingredients and toss in other salty cheeses like feta or goat cheese because that seems like a good idea and it always works out. I also like it a bit spicy so I'll put in more jalapenos and definitely use the hot smoked paprika. In other words, don't worry if you don't have everything on this list but make sure to at least to add the Parmesan and fish sauce and some variety of tomatoes because that's where the savoriness really comes from.

½ cup arugula, chopped
¼ cup basil, chopped
2 tbsp Italian parsley, finely chopped
3 medium heirloom tomatoes, chopped
¼ cup oil-cured black olives, pitted and coarsely chopped
3 tbsp cream
¼ cup grated Parmigiano-Reggiano cheese
1 scallion, chopped, both green and white parts
2 tbsp olive oil
juice of half a small lemon
1 tbsp tomato paste
2 tbsp Thai fish sauce
1 jalapeno, minced
1 clove garlic, minced
1 ½ tsp Spanish smoked paprika, sweet or hot
1 tsp freshly ground pepper
1 pound dried pasta such as conchiglie, penne rigate or cavatappi
Bring a large pot of water to a boil and add a handful of salt to make the water briny. Meanwhile, mix all ingredients except for pasta in a large mixing bowl and let stand while the pasta cooks. Once the water is rapidly boiling, add the pasta to the pot and return to a boil. Cook, stirring often, until the pasta is al dente. Drain the pasta well then return it to the pot. Off the heat, add all the chopped ingredients from the bowl to the pot and stir to combine. The heat of the pasta will wilt the herbs and bring out all the savory aromas. Serve immediately.  Serves 4