That's Serge with the 'stache
Celebrating 25 Years with Sang des Cailloux
by Kermit Lynch
© Gail Skoff
That's Serge with the 'stache, this summer in Provence. When you drink Sang des Cailloux, you are drinking Provence. Yum. Tastes good.
Twenty-five years ago, I was thrilled (as a Dylan fan) that Serge's wine in the glass fit the moniker. Blood of the stones. Oh yes, you can squeeze blood out of a stone. Serge does it every year.
Serge and I went through our earlier days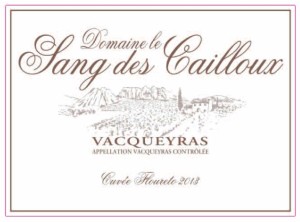 liking wines with a wallop. We liked brawny mouth-fillers. But his also had intense flavors and great depth. Nowadays we are, of course, more sage. We like touch and finesse, and Serge achieves both without losing that impression of intensity. The stones are in the vineyard. The aromatic herbs fill the air. Both are in this perfect 2013.
To see vividly the difference between northern and southern Rhône, to fix the difference in your mind, pair Serge's with the Côte Rôtie "La Viaillère" offered elsewhere in this brochure. You will enjoy a pristine, very expressive version from each region.
Serge has supplied us all with several memorable vintages over the past twenty-five years. I wouldn't say this is his best, but none have been better.
2013 Vacqueyras Rouge
"Cuvée FlouretO" >
$34.00 per bottle $367.20 per case