March Newsletter: 2014 Vieux Télégraphe, Côte d'Or, Alsace—Beyond Riesling
The March Newsletter is now available.
Click here to download the pdf.
Highlights from this month's newsletter…
PRE-ARRIVAL OFFER
by Dixon Brooke
A meaningful number of the most prestigious (expensive) cuvées of Châteauneuf-du-Pape come from the lieu-dit of La Crau. All of the fruit iused for VT's classic bottling is sourced from old vines on the plateau of La Crau. What would be a reserve wine or a special cuvée at any other Châteauneuf estate is the minimum standard for VT. La Crau is one of the undisputed grands crus of the appellation.
As many of you know, the special thing about this site is the stones. The stoniness of VT is its most exciting quality, and it is always evident. In riper years it may only become evident after some bottle age.
One of the challenges with this appellation of late is achieving balance and freshness. What the Bruniers have accomplished in 2014 is nothing short of remarkable. (By the way, the same is true at Pallières in Gigondas, and 2014 looks to be this estate's greatest vintage since the Bruniers purchased the estate with Kermit in 1998.) Vintage 2014 produced a VT of exceptional refinement, with a texture of velvet. Power and finesse, fused into one complete package, with all the character we expect from VT—there is no mistaking those La Crau stones. Vieux Télégraphe is returning to its roots and leading the way forward in Châteauneuf toward drinkable, balanced, terroir-driven, elegantly rustic old-vine Grenache that will redefine and reinvigorate the appellation.
Also Available in Tenths, Magnums, Jeroboams, Methuselahs,
Salmanazars, and Nebuchadnezzars
Pre-arrival terms: Half-payment due with order;
balance due upon arrival.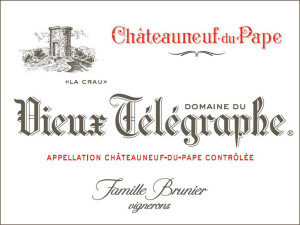 by Dixon Brooke
2013 MOREY SAINT DENIS "EN LA RUE DE VERGY"
RÉGIS BOUVIER >
Bouvier is best known for his Marsannay of all three colors, produced where his winery is based and where the lion's share of his vines are located. Outside of this inheritance, his greatest acquisition ever was this parcel in Morey Saint Denis, a coveted lieu-dit surrounded by grands crus. Every year it is the top wine in his cellar—the strength of this terroir makes its presence felt. This lush, full-fruited, sensual red Burgundy delivers the type of experience that only Pinot Noir from these parts can.
$56.00 per bottle $604.80 per case
2013 GEVREY-CHAMBERTIN 1ER CRU "LES CORBEAUX"
LUCIEN BOILLOT & FILS >
From a great site in the prime saddle of mid-slope land between Gevrey and Morey, Boillot's Corbeaux is a quintessential Gevrey-Chambertin experience, decidedly old school. Thanks to his partial full-cluster fermentations in open-top cuves and his use of old barrels for aging, nothing ever gets in the way of the expression of each of his terroirs. Les Corbeaux 2013 shows smooth, silky fruit, solid structure, and tannins that are all finesse. This graceful, harmonious wine will give much pleasure young and old.
$95.00 per bottle
$1,026.00 per case
2013 NUITS-SAINT-GEORGES "VIEILLES VIGNES"
domaine ROBERT CHEVILLON >
How do the Chevillons do it? That is, how do they make some of the prettiest, most elegant Burgundies in all the Côte in what most consider one of Burgundy's most rustic appellations? Fanatical vineyard management, old vines, and a focus on purity of fruit: very few stems, very little new wood, soft, gentle cuvaisons and racking. This 2013 is as seductive a young Nuits as you are likely to encounter. Enjoy over the next five to eight years.
$90.00 per bottle $972.00 per case
2012 ALOXE-CORTON 1ER CRU "LES VERCOTS"
DOMAINE FOLLIN-ARBELET >
I can't recall a more inspiring moment in a cellar in Burgundy than when I tasted Franck Follin's 2012s out of barrel underneath his home in Aloxe-Corton. I have had many great tastings in Burgundy, and I'm not saying this was the best, but I can't remember one that was better. These are thoroughbred wines: sleek, sinewy, beautifully constructed. This Aloxe-Corton will drink beautifully over twenty years. Follin's wines are for fans of classically styled, pure, racy red Burgundy. This is what red Burgundy should taste like.
$76.00 per bottle $820.80 per case
2011 CHARMES-CHAMBERTIN GRAND CRU
DOMAINE MAUME >
My heart skips a beat every time I contemplate the fact that this is the last vintage of Maume that will resemble what we know as Maume. Indeed, I believe it is the last vintage even labeled with the Maume name. Maume's collection of ancient vines with their diverse budwood, his rustic and moldy cellars, and his mad-scientist-like personality that came alive between the walls of his Gevrey-Chambertin cave all combined to give us here at KLWM many great memories of some of the most unique Pinot Noir ever made. We stockpiled library vintages in addition to the 2011, Bertrand Maume's final vintage, but precious little is left. Buy a bottle of Burgundian history that you can drink with pheasant.
$175.00 per bottle $1,890.00 per case
ALSACE, BEYOND RIESLING
by Dixon Brooke
2012 GEWURZTRAMINER "FRONHOLZ"
domaine OSTERTAG >
There is probably no white grape in the world capable of delivering the aromatic and flavor complexity of Gewurztraminer. It is the wine that winemakers in Alsace are most excited about showing off to their colleagues. Drinking one is almost like having a course unto itself at table, though I certainly enjoyed it at home with eel and avocado sushi recently—what a revelation. This 2012 from Ostertag was harvested just shy of vendange tardive concentration, so don't expect it to be dry!
$65.00 per bottle $702.00 per case
2014 PINOT BLANC "VIEILLES VIGNES"
MEYER-FONNÉ >
This gorgeous Pinot Blanc, one of Félix Meyer's most ubiquitous cuvées, always manages to capture the perfect blend of exotic fruit and stony freshness that is the hallmark of all of his wines. Félix successfully packs (as usual) a lot of complexity into a very reasonably priced bottle that shows incredible versatility at table. I am always thrilled to find it on a by-the-glass wine list.
$19.95 per bottle $215.46 per case
2013 MUSCAT GRAND CRU "BRAND" • ALBERT BOXLER >
A fifty/fifty blend of Muscat Ottonel and Muscat d'Alsace, this is the first Muscat Brand that has been produced at Boxler since the 2008 vintage. It is a truly breathtaking creation. The aromas are pure, soft, and ethereal, with an understated class that comes from the Ottonel. The palate is layered with white fruits, slightly smoky hints, and a heavy dose of granite minerality. Much like his Pinot Blanc Réserve from Brand, it shows its terroir in striking fashion. Dry Muscat doesn't get any better than this (and, as I discovered with a 1959 the last time I was in the region, it is one of Alsace's greatest agers).
$79.00 per bottle $853.20 per case