July Newsletter: New Arrivals Corsica, Rosé Time Continues, François Rousset-Martin
The July Newsletter is now available.
Click here to download the pdf.
Highlights from this month's newsletter…
by Chris Santini
2013 MONTE BIANCO ROUGE
DOMAINE comte ABBATUCCI
I hate to make bold claims, but I gotta say that this is the single greatest pure Sciaccarellu I've ever tasted. Once seen as quaint and a bit of a novelty, Sciaccarellu is finally getting its due respect. Monte Bianco has a complexity and subtlety that could rival the greatest Burgundy, and with a strong sense of Mediterranean place. Growers everywhere should take note: in this age of our warming planet, don't forget the grapes native to your land, as they are best suited to cope. Corsica, as you can imagine, is HOT in the summertime, with little rain. You'd think such weather would be a recipe for jammy and overripe wines, but not with Abbatucci, and not with Sciaccarellu. Don't call it a comeback—Sciaccarellu has been here for years (millennia, actually). Its DNA is adapted and ready for whatever summer sends its way. It's learned to live in harmony with the other native flora and benefit from them, too. Then add biodynamic farming to the mix, and voilà! Monte Bianco is incredibly fresh and compelling, with a minimalist structure more akin to a northern climate. If you want to see the new heights Sciaccarellu can attain, this is it right here.
$89.00 per bottle
(Sold Out)
2015 FAUSTINE rosé "vieilles vignes"
DOMAINE comte ABBATUCCI >
Get some of th
is Sciaccarellu in its rosé form while you can. Every year we beg for more from the estate, and they tell us no. Faustine is no mass-production rosé; it's from parcels adapted specifically and exclusively for rosé. The result is steeped in terroir.
$35.00 per bottle $378.00 per case
2015 ROUGE FRAIS IMPÉRIAL
DOMAINE comte ABBATUCCI >
The third and final declination of Sciaccarellu is in this deliberately overcropped, high-acid, light red form. As the label implies, drink it chilled! This perfect summer rouge is made for the ice bucket. There's a lot of talk these days about red wines made via extraction of grapes versus reds made via infusion of grapes. Here is the textbook version, and showpiece, of the elegance and light touch of the infusion approach.
$28.00 per bottle $302.40 per case
2013 CORSE CALVI ROUGE "E PROVE"
DOMAINE MAESTRACCI >
Once you've emptied the rouge frais from the ice bucket and are looking to follow up with a little something to sink your teeth into, this is it. While full of wild Corsican brush aromatics, E Prove contains plenty of juice and sunshine, too. Don't worry, though, about it going over the top, since it has been tamed for more than two years of aging in large oak casks and is released when ready for your table. I call this rouge the quintessential pairing for hearty Mediterranean dishes.
$22.00 per bottle  $237.60 per case
2014 PATRIMONIO ROUGE "CRU DES AGRIATE"
DOMAINE GIACOMETTI >
From out in the middle of the barren scrublands Corsicans call their desert comes one of the best values you can find for this quality of Corsican rouge. It's no simple wine, though; it's just that this domaine is still under the radar and hasn't attained the star status of some of its neighbors . . . yet. This vintage marks the first year of organic conversion for the estate, too. Get in on it before you-know-what happens.
$19.95 per bottle $215.46 per case
ROSÉ TIME CONTINUES
by Clark Z. Terry
2015 PIC SAINT LOUP ROSÉ
ERMITAGE DU PIC SAINT LOUP >
Out of the five Languedoc rosés we have in stock at this moment, this is my pick to take home. It has some stiff competition, as Languedoc rosé delivers incredible value, but the Ravaille brothers of Ermitage du Pic Saint Loup have the touch and terroir to take their wines up a notch. Notes of apricot and garrigue stand out at first taste, but what draws me in is the weight, or perhaps the gravity, of the wine on the palate—it's mouth-coating and lingering, multilayered and ever evolving. You can taste it long after you've finished the glass. All that for just 16 bucks!
$16.00 per bottle $172.80 per case
2015 CHINON ROSÉ • CHARLES JOGUET >
We have imported the Joguet rosé since the 1970s, but it still flies under the radar, overshadowed by the apparent sexiness of basically any rosé that comes from the south of France. Refreshment is needed in the north, too, far from the crystalline waters of the Mediterranean. They have rivers in the Loire, so grab a bottle of Chinon for the next time you plan a picnic next to a stream. Smoked trout, paté, or a Loire chèvre with a crusty baguette will pair quite nicely with this juicy Cab Franc rosé.
$20.00 per bottle $216.00 per case
2015 BANDOL ROSÉ
DOMAINE DE LA TOUR DU BON >
Peace and Love. That's what Agnès Henry, vigneronne at Tour du Bon, will tell you her domaine is all about. Mind you, her property isn't some hippy commune (but there is a bed-and-breakfast if you'd like to visit). Peace and love for the earth is what she means, from the untamed flower garden that greets you to organic treatments for the vines, and keeping the property's hilltop forest instead of putting in more vines.
Her 2015 rosé is lithe, delicate, and fresh. Aromas of rosemary and summer peaches couple with pure enjoyment. You'll find it is best to drink this wine in a garden with a peaceful someone you love.
$30.00 per bottle $324.00 per case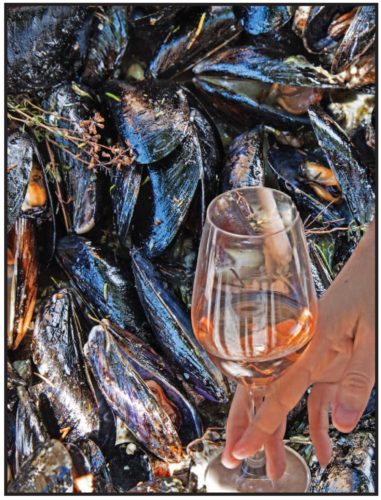 © Gail Skoff
FRANÇOIS ROUSSET-MARTIN
a new jurassic phenom
by Dixon Brooke
2014 CÔTES DU JURA CHARDONNAY
"LA CHAUX" >
This Chardonnay comes from Savagnin country, namely the steep limestone slopes below the village of Château Chalon. This bottling reminds me a bit of Savagnin Vert, a green-skinned version of the grape that is rarely bottled separately. It is racy, with a distinct taste of lime and a pleasant bitter edge. But La Chaux is Chardonnay, after all, and its ample mouthfeel and pleasant fruitiness offset the force of terroir that is Château Chalon. Only two barrels produced!
$39.00 per bottle $421.20 per case
2014 CÔTES DU JURA CHARDONNAY
"TERRES BLANCHES" >
Named after its terroir of
white marl or "white earth," this beautifully detailed Jurassic Chardonnay is made in the ouillé or topped-up style (as is the La Chaux above), meaning the barrels are topped off with wine as the wine evaporates, rather than left underneath a thin veil of yeast (sous voile) that causes the wine to gently oxidize over time. This latter technique is more typical historically in the Jura. Why the ouillé technique has not been employed more frequently has always mystified me, given the unbelievable geological complexity underlying the vineyards of the Jura that can be beautifully translated by the vine and is often masked with sous voile. As intriguingly delicious as the sous voile wines can be (we offer one magnificent example here), these ouillé wines offer more approachability (in taste and price) and a wider variety of possibilities at table.
Terres Blanches is produced from forty- to fifty-year-old vines in the village of Lavigny. Aromatically very fresh, the bottling hints of beeswax on the palate, and the finish is dominated by a strong, stony goût de terroir. With it, I'll take the rabbit terrine.
$39.00 per bottle $421.20 per case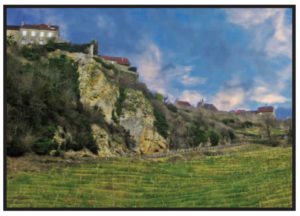 Château Chalon                                                   © Dixon Brooke
2013 CÔTES DU JURA SAVAGNIN
"CUVÉE DU PROFESSEUR—SOUS ROCHE" >
Here we have a Savagnin made in the ouillé style from late-harvest grapes that were just beginning to show a purple tinge (Savagnin is related to Gewurztraminer, and both grapes deliver hauntingly complex aromas and flavors at this stage). The equilibrium of this wine is startling: rich, layered, and complex, it is high in concentration and low in alcohol. It has a touch of sweetness in the center and finishes with a salty, dry tang that is uniquely Jurassien. "Sous Roche" refers to the location of this vineyard "under the rock" outcropping that supports Château Chalon above, one of the Jura's grands crus for Savagnin.
$44.00 per bottle $475.20 per case
2008 CÔTES DU JURA SAVAGNIN
"CLOS BACCHUS SOUS VOILE 7 ANS" >
The Clos Bacchus is another one of the Jura's most reputed terroirs for Savagnin. We offered the ouillé version of this vineyard in April with the 2013 Veine Bleue de Bacchus. Imagine if that dry, lemony, saline wine had been left to age in barrel for another five years sous voile. Well, you don't have to imagine, because this is what it tastes like. Honey and musk emerge from the glass in a deeply complex mélange that is reminiscent of yellow chartreuse. On the palate it is a different animal entirely, with salty comté cheese rind and high treble acidity, finishing with a suggestion of toasted walnuts. I highly recommend finishing off a nice dinner party with a bottle of this and a platter of the Jura's great cheeses.
$74.00 per bottle $799.20 per case