How to Drink Orange Wines
The Kermit Lynch Guide to Enjoying Macerated Whites
by Anthony Lynch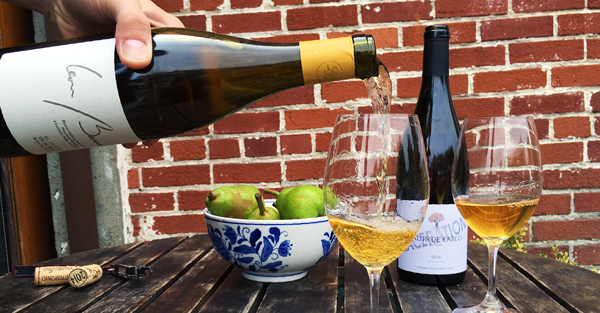 The phenomenon has spread like wildfire: now on wine lists from Paris to Tokyo to New York to San Francisco, the category ORANGE appears alongside WHITE, RED, and we hope, ROSÉ. Why orange wines? In an effort to obtain a texturally and aromatically distinctive creation in a sly nod to the primitive days of vinification, producers around the world have embraced the practice of fermenting white wines on their skins to yield these so-called orange, amber, or skin-contact wines. Perhaps you curiously ordered a glass in a trendy wine bar and immediately scrunched your nose in revulsion at the flagrant stench of rotting beets, underripe apricot pit, and lukewarm compost pile. While there's no doubt that many examples of the style come across as surprising, if not outright offensive, it is important to approach such wines with patience and open-mindedness. Before you give up on orange wines for good, take a look at our expert guide to enjoying these most unusual of fermented grape beverages.
Make sure there are no faults – This may seem obvious, but the number of flawed orange wines on the market should keep you on your toes. Producers of skin-fermented whites often tend toward the extreme end of the natural winemaking spectrum, and as many bottle with little or no sulfur, off-aromas are not unheard of. However, skin maceration is no excuse for oxidation, reduction, volatile acidity, or other winemaking faults—give it a sniff to ensure it is clean so you do not waste your time trying to understand a wine that is downright screwed up.
Give it air – Like red wines, macerated whites possess tannins that may need time to soften. Additionally, unfiltered wines may contain lees (dead yeast cells left over from fermentation) in addition to these tannins—both substances that protect wine from oxygenation, and can favor the development of slightly unpleasant reductive aromas. Fetch a decanter or plan to open the bottle an hour or two beforehand in order to allow the aromas to blossom and let otherwise grippy tannins resolve. Remember, you may even find it tastes best on day two or three.
Don't serve it too cold – Macerated wines are more structured than typical whites, so serving them cold will make their tannins appear hard and astringent. Instead, aim for a cool room temperature.
Find the right pairing – While these are certainly fascinating wines to analyze and dissect, they are not meant for casual sipping or quaffing by any means. On the other hand, they offer countless opportunities at table: with the weight and structure of a red wine but flavors closer aligned with the white-wine world, they lend themselves to many unexpected and often tricky pairings. Finding the right one could be the difference between a dud bottle and the revelation of your wine life. Here are some suggestions:

  Earthy dishes (bitter greens, mushrooms, root vegetables, etc.)
  Fatty fish and seafood (tuna, salmon, sea urchins)
  Anything with tentacles
  Simply prepared white meats
  Patés and terrines
  Aged cheeses (but not too strong)
We have two macerated whites in stock at the moment:
2014 VIN DE FRANCE BLANC "HAUTS DE CARCO MACERATION" • ANTOINE-MARIE ARENA >
In the Corsican cru of Patrimonio, Antoine-Marie Arena sources these grapes from his family's striking Hauts de Carco parcel, a steep limestone hillside littered with huge stones and marine fossils. A one-month "infusion" of the cap extracts color, aromatics, and depth from the native Vermentinu grape, known locally as Malvasia. Saline and herbaceous, it is a new lens through which we can appreciate this great Mediterranean terroir.
$39.00 per bottle $421.12 per case
2014 VIN DE FRANCE BLANC • DOMAINE LÉON BARRAL >
Didier Barral of Faugères allows this unusual blend of mainly Terret and Terret Gris to macerate for three days in his ancient wooden basket press. After a spontaneous fermentation, the wine ages in stainless steel and is bottled unfined, unfiltered, and with no added sulfur. Its fleshiness and textural singularity will incite a tactile revolution on your palate.
$48.00 per bottle $518.40 per case